Description
Advanced GPS Bike Computer for Competing and Navigation
Features advanced navigation, including new rider alerts and the preloaded Garmin Cycle Map with turn-by-turn directions for on and off road courses
Preloaded Strava Live Segments let you compete second by second with your previous best or another rider's PR; see real-time results right on your screen
Stay connected with your compatible smartphone using LiveTrack and GroupTrack, smart notifications, rider-to-rider messaging and built-in incident detection
Monitors cycling-specific VO2 max and recovery time when used with power and heart rate
Tracks Functional Threshold Power (FTP) and cycling dynamics when used with Vector™ power meters
Battery life: up to 15 hours
With Edge 520 Plus, you can train smarter and discover new routes. This cycling computer features advanced navigation and challenges built right in, not to mention a bright colour screen, preloaded Strava Live Segments and the Garmin Cycle Map with turn-by-turn directions. Whether you're exploring new routes or pushing your limits at race time, Edge 520 Plus has exactly what you need.
Advanced Navigation with Garmin Cycle Map
Edge 520 Plus is preloaded with the Garmin Cycle Map and includes turn-by-turn navigation and navigation alerts that notify you of upcoming turns. And, of course, it's smart enough to guide you back to the route — or back to start — if you deviate from it or decide to head home early.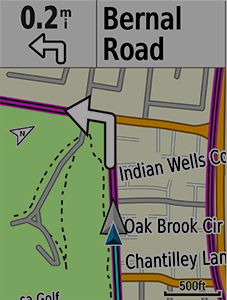 Messages From Rider to Rider
There's no need to reach for the phone or worry about your fellow riders when they pull ahead or fall behind. Rider-to-rider messaging (with a compatible smartphone) lets you send prewritten notes from your Edge 520 Plus bike computer to theirs. Let your friends know if you'll catch up in a few minutes or if they should go on without you. If you have a flat tire or need assistance, you can send a message to your fellow riders who are paired with GroupTrack — so they can find you.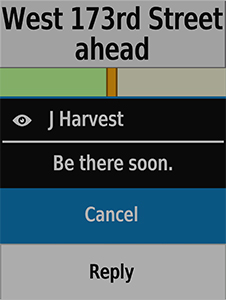 Advanced Performance Monitoring
Edge 520 Plus is compatible with ANT+® technology sensors, including speed, cadence and heart rate. For even more performance data, 520 Plus is also compatible with ANT+ power meters, including Vector 3 (sold separately). Our unique pedal-based power meter measures total power, left/right balance and cadence. You can even record cycling dynamics to get a better look at your form, including where your power is being applied on the pedal and throughout the pedal stroke.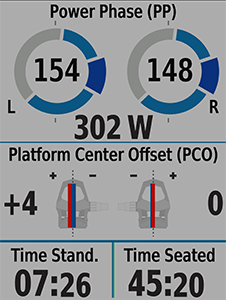 With the addition of a heart rate strap (sold separately), you gain access to a variety of physiological data. See your cycling-specific VO2 max along with a recovery advisor, which analyses your data and tells you how long you should wait before attempting another hard ride. This connected system of sensors, accessories, cycling computer and post-ride analysis with our Garmin Connect™ online community allows you to keep track of how your body performs from ride to ride.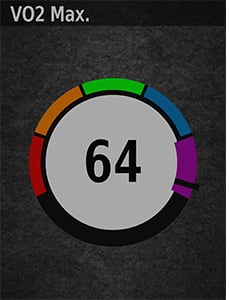 Customise Your Device
It's easy to customise your Edge 520 Plus bike computer with the free apps, widgets and data fields you want from our Connect IQ™ store. Apps such as AccuWeather MinuteCast let you know when the rain will stop so you can find time for a ride. Get immediate feedback with the MPA and Power app from Xert so you can see if you're exceeding your maximum power available. A variety of configurable data fields show your favorite stats on a single, easy-to-read screen.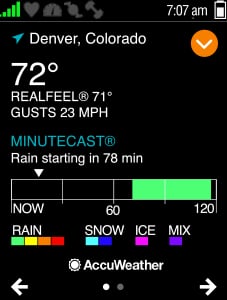 Ride with Confidence and Ease
Edge 520 Plus is compatible with our Varia™ line of cycling awareness devices, including rearview radar and smart bike lights. By pairing these devices with your Edge, you can get alerts — right on your Edge display — to approaching cars and help drivers see you. Use LiveTrack to let your friends and family follow your real-time location, or use GroupTrack to keep tabs on up to 50 of your riding buddies — and let them keep tabs on you — if you get separated.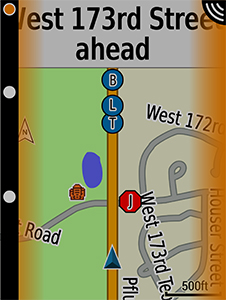 Strava Live Segments Help You Push to Perform
Garmin and Strava are bringing you even more ways to test your limits. You'll still get alerts for segment starts and finishes and be able to virtually compete against your own PR and Strava friends with a redesigned second-by-second comparison that shows how you measure up. But now you'll also be able to see how your current effort compares to your PR, your most recent efforts or the personal bests of your friends. And finally, with the preloaded Strava Routes Connect IQ app, starred routes can now be wirelessly sent to your Edge bike computer so you can navigate and compete on your favorite Strava segments at the same time.
With the purchase of an Edge 520 Plus, you get a free 60-day trial of Strava Premium, so you can sample the best tools to push yourself.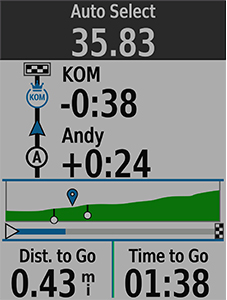 Personalised Race Day Power Plan From Best Bike Split
The preloaded Best Bike Split app allows you to see how changes in weight, power and drag can affect your goal race time, and it creates the perfect power plan for race day. With the Best Bike Split Race Sync app, your race day power plan will guide you to your best bike split ever. Simply link your Best Bike Split account with your Edge 520 Plus, and all of your current race plans will be available at your fingertips. Create a Best Bike Split account today.
From Plan to Performance with TrainingPeaks
With the TrainingPeaks Connect IQ app, bringing your planned workout with you for every ride is as easy as turning on your Edge 520 Plus bike computer. The preloaded app puts your daily workout right on the Edge device. It guides you through your workout in real time, complete with intensity targets and interval durations. After your workout, sync to TrainingPeaks for detailed analysis and to measure progress toward your goals. Create a free TrainingPeaks account, and get started with a free training plan.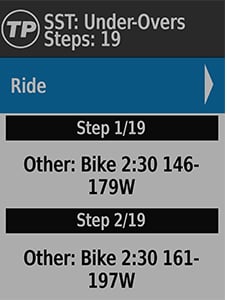 Trailforks App
With the Trailforks app, you can download trails to use offline when you go for a ride. Featuring trails from more than 80 countries, Trailforks maps include topographic information, points of interest, heatmaps, trail conditions, photos, videos and much more. Wherever you ride, you'll have access to the best, most up-to- date information so you can plan your ride, discover new trails and elevate your riding experience. Now with Garmin Edge integration you'll have access to all the best Trailforks courses on your handlebar.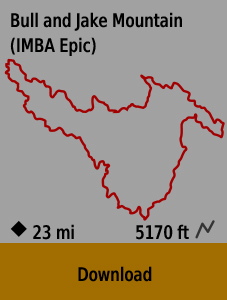 Physical & Performance
| | |
| --- | --- |
| Display size | 1.4" x 1.9" (35.0 x 47.0 mm); 2.3″ diagonal |
| Display resolution | 200 x 265 pixels |
| GPS | Yes |
| Physical dimensions | 1.9″ x 2.9″ x 0.8″ (49.0 x 73.0 x 21.0 mm) |
| Battery | rechargeable lithium-ion |
| Weight | 2.2 oz (62.5 g) |
| Battery life | up to 15 hours |
| High-sensitivity receiver | Yes |
Maps & Navigation
| | |
| --- | --- |
| Basemap | Yes |
| Routes | 100 |
| Waypoints/favorites/locations | 200 |
| Ability to add maps | Yes |
| History | up to 200 hours |
Features
Manual multisport activities
No
Courses
Yes
Heart rate-based calorie computation
Yes
Barometric altimeter
Yes
Auto Lap®
Yes
Interval training
Yes
Auto Pause®
Yes
Time/distance alerts (triggers alarm when you reach goal)
Yes
Touchscreen
No
Additional

Alerts (triggers alarm when you reach time, distance, HR, calories goals): yes
Compatible with Varia™ bike radar and lights: yes
LiveTrack: yes
Advanced performance and power analysis, including new Time in Zone, FTP tracking, cycling-specific VO2 and recovery and cycling dynamics
Bike trainer profile for compatible Turbo trainer data display and control
On-device segment compatibility for dynamic and engaging in-ride competition
Operating temperature: -20°C to +55°C
Connected features via a smartphone: yes
Integration with Shimano Di2 electronic shifting: yes
Weather alerts: yes

¹ Advanced workouts require a Garmin Connect account

Garmin Connect™ compatible (online community where you analyze, categorize and share data)
Yes
Vibration alerts
No
Race an Activity
No
Water rating
IPX7
Unit-to-unit transfer (shares data wirelessly with similar units)
No
Color display
Yes
Multiple bike profiles
No
GLONASS
Yes
Smart notifications
Yes
Compatible with Vector™ (power meter)
Yes
Auto scroll
Yes
Heart rate monitor
Yes (optional)
Customizable data pages
Yes
Shock Resistant
Yes
Automatic sync (automatically transfers data to Garmin Connect)
Yes
Training Effect (aerobic)
No
Pace alert (triggers alarm if you vary from preset pace)
No
Virtual Partner
Yes
V02 max
Yes
Temperature (displays and records temperature while you ride)
Yes
Power meter compatible (displays power data from compatible third-party ANT+™-enabled power meters)
Yes (records data approx. 1 per second)
Cycle Map (routable cycling-specific street map)
Yes
Advanced workouts
Yes
VIRB® Camera Remote
Yes
Unit Only
Edge 520 Plus
Flush out-front mount
Standard mount
Tether
USB cable
Manuals.
Sensor Bundle
Edge 520 Plus
Flush out-front mount
Standard mount
Speed sensor
Cadence sensor
Heart rate monitor
Tether
USB cable
Manuals
1 YEAR LIMITED WARRANTY POLICY
All Garmin products are warranted to be free from defects in materials or workmanship for one year from the date of purchase. Within this period, Garmin Australasia Pty Ltd., will, at its sole option, repair or replace any components that fail in normal use. Such repairs or replacement will be made at no charge to the customer for parts or labour, provided that the customer shall be responsible for any transportation cost. This warranty does not cover failures due to abuse, misuse, accident or unauthorised alterations or repairs.
Garmin retains the exclusive right to repair or replace the product or offer a full refund of the purchase price at its sole discretion. SUCH REMEDY SHALL BE YOUR SOLE AND EXCLUSIVE REMEDY FOR ANY BREACH OF WARRANTY.
You need to login in order to like this post: click here
Additional information
| | |
| --- | --- |
| Garmin Garmin Edge® 520 Plus | Garmin Edge® 520 Plus Unit Only, Garmin Edge® 520 Plus Sensor Bundle |
Only logged in customers who have purchased this product may leave a review.