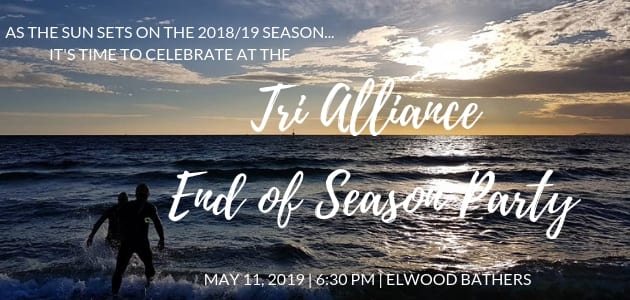 Date
11 May 2019
Time
6:30 pm - 11:55 pm
Cost
$100.00
Labels
Social Events
Tri-Alliance End of Season Presentation Night 2019
THE ONE DAY OF THE YEAR YOU HAVE ALL BEEN HANGING OUT FOR!!!!
SAT 11TH OF MAY 2019
The biggest night of the year is the Tri-Alliance End of Season Presentation Night.  In what is noted amongst the Tri-Alliance faithful as THE Social Event of the year, it's the one you cannot miss.  So go ahead and cancel birthdays, hot dates, weddings and Bar Mitzvah's, and make yourself available to celebrate another fantastic year. It is a suit and tie and fancy frock occasion with a sit down 3-course meal and complimentary drink on arrival.  There will be a-rockin' dance floor with plenty of good times and you're guaranteed an awesome night with our bunch.  Look out for the after party too!!
SOME OF THE HIGHLIGHTS
Tri-Alliance celebrates the annual John Cornish Scholarship for the individual who encapsulates the Tri Alliance Way, the most celebrated Long Course and Short Course athletes nominated and voted by the athletes and the best newcomer and team player are also awarded.  One of our favourite awards is the much sought after 'Zoolander' Award, for best-dressed athlete?
This year we're going all fancy – we have an exciting new venue, new vibe and did you know they have an ah-mazing menu!  So why put off the inevitable?
Make sure you book early, we have 100 tickets available at Elwood Bathers.  To avoid disappointment, get on to it now!  
Contact Details:
Contact Details: Michelle Allan Ph. 1300 680 874 E. [email protected]
Tags:
Awards Night
End of Season Party