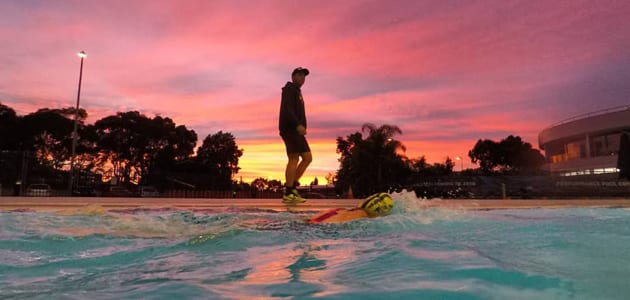 Event Attendees
No attendee found! Be the first one to book!
Date
10 Nov 2019
Time
12:30 pm - 2:00 pm
Cost
$150.00
SWIM TECHNIQUE WORKSHOP 4
PRE SEASON SWIM CLINIC
This 90-minute clinic is perfect for you if this sounds familiar:
You'd love to take part in triathlon, but the swim leg is putting you off
You feel like you're fighting the water
You're out of breath after just 30m in the pool and must rest frequently
When you swim you imagine your legs and feet dragging low behind you
You don't look forward to swim sessions at all
Swimming is simply a struggle and you're at a loss as to how to improve
The thought of swimming alone makes you uncomfortable
You'd like to graduate to open water swimming but don't know where to start
Swimming gear: bathers, goggles, cap, fins

Warm towel and/or upper body layer for poolside chats

Drink bottle


Feel free to wear a rashy or tri suit if you feel the cold but no wetsuits, please
Specific location:
Melbourne Sports and Aquatics Center, Indoor Pool, 50m Pool: LANE 2.
Please note: There will be no extended periods of swimming so current fitness is not a concern.
You need to login in order to like this post: click here